It's not unusual for me to swap out the files for my art submissions. Whenever I'm unsatisfied with how a character (or something else) looks I adjust/redraw some stuff and then pull a switcheroo. So the original version, while not completely gone, isn't present on Newgrounds anymore. But lately, I figure why not show a comparison in a post so people on here can see the difference? After all, I don't exactly announce when I've changed a file. I normally assume people who've favorited my art and regularly check their favorites list do a double-take on thumbnails of mine or just not notice it all. This is probably the more interesting way of going about this. I've included my thoughts and reasons for the change below the comparison.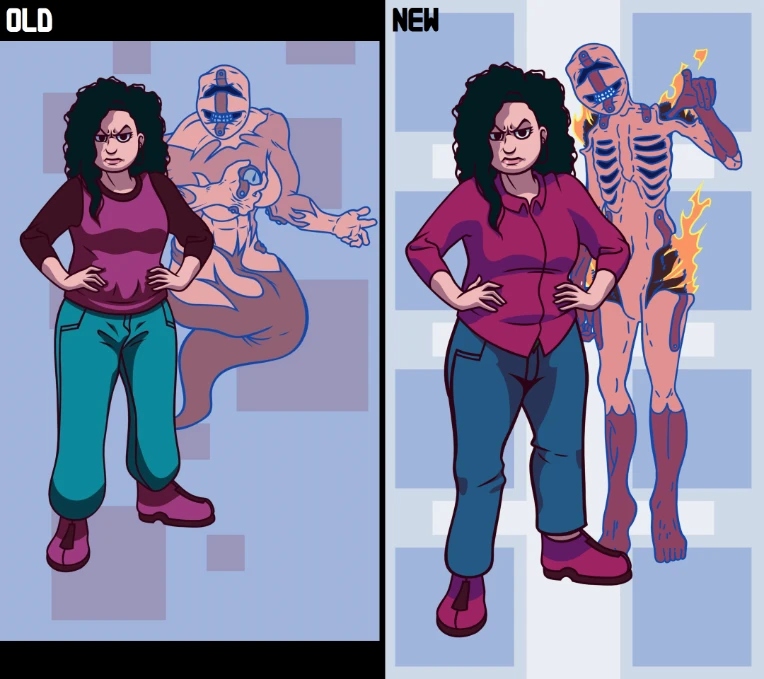 MUCH happier with the new version. Originally, I was just gonna redesign that scary weird thing behind her. The buff look just wasn't working for me (and I was lazy hence its lack of legs) but I decided to change up the woman's clothes and I'm glad I did. Again, the first time I was lazy. I just gave her huge jeans because I was afraid I would mess up drawing her legs accurately to her size. Corrected that cuz I ain't no wuss, ya hear? Something about the tighter jeans and the button-down gives her a more real feel. Like she's someone you could meet on the street or something. Her previous look didn't quite live up to that vibe. Or at least that's how I feel about it.
Also, that creepy thing behind her, I got the anorexic body idea after being introduced to the art of Zdzisław Beksiński.